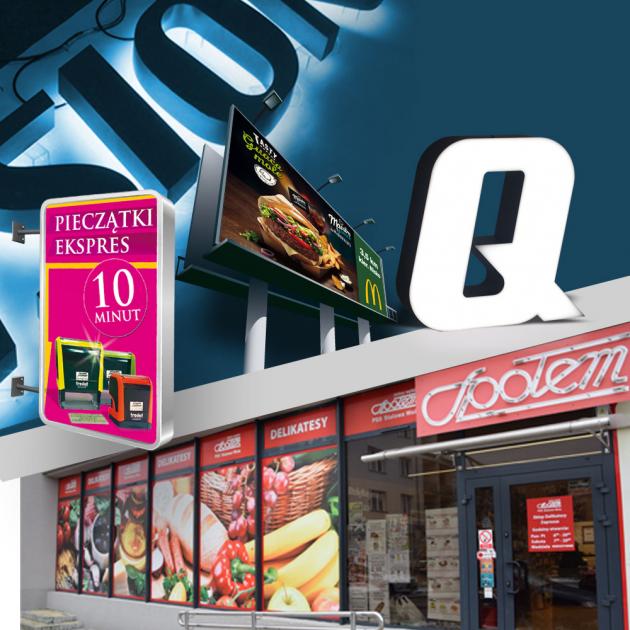 External vizualization
Without interesting visual advertising you cannot appear on today's market. Wishing to meet customer expectations, we offer a very wide selection of ads:
traditional advertising boards on a galvanized steel sheet or PVC, covered with foil graphics or large format
printouts single or double-sided light boxes, flat or with a convex face, for the wall or free-standing, rectangular, oval
company logo with the face made of milk plexiglass or Panaflex
Spatial forms of PVC or styrodur illuminated from the outside with halogen
lights internally illuminated forms with plexiglass or panaflex
Letters and illuminated signs from neon lamps
Very elegant ads engraved in brass or aluminum
Information inscriptions or prints pasted on the glass
Advertisement on the means of transportation
In GoMa you can also order ads on various types of vehicles:
cars
trucks
vans
buses
motorcycles
We offer simple graphics - company logo, slogans, address etc. cut from a special, multi-colored adhesive film and stuck on the car body or car tilt. We also offer more interesting projects: logos and contact details incorporated into photos, printed on a special car and window film or on a reflective film that reflects external light. Cars wrapped in this way are not only mobile advertising of your company but also nice, visible from afar, safe and durable.
Exhibition Stands
A portable exhibition stand is necessary at fairs, exhibitions, various types of presentations, training sessions and lectures. The whole consists of a lightweight and easy to assemble structure, on which interchangeable graphic panels are placed on two, three or four modules. Packed in light, handy trunks on wheels, the stand can be transported by car and spread by one person within 15 minutes. The possibility of multiple graphics changes on the modules allows for differentiation of advertising messages while reducing costs in reaching a wide audience.